Creative Ideas, Strategies, & Tools For Reaching And Meeting The Needs Of All Learners
Who We Are
---
Kelly Harmon & Associates began in 2001 with a mission of instructional coaching and providing rich literacy resources for educators and parents. Our work incorporates research-based best practices for teaching and learning.
Workshops
Kelly Harmon & Associates provide outstanding, highly practical seminars and workshops to schools throughout the United States. We customize the content of the workshop to meet the needs of each school or district. Contact our office at 817-583-1290 to schedule an onsite workshop.
Our Workshops »
Latest Blogs
---
by Kelly Harmon & Randi Anderson
December 8th, 2017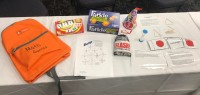 Math backpacks are a great way to motivate students to practice their math skills at home. A Math Backpack is a simple backpack filled with focused math games, that have been played in the classroom that students take home to practice for a day or week.
Read More »