Creative Ideas, Strategies, & Tools For Reaching And Meeting The Needs Of All Learners
Who We Are
---
Kelly Harmon & Associates began in 2001 with a mission of instructional coaching and providing rich literacy resources for educators and parents. Our work incorporates research-based best practices for teaching and learning.
Workshops
Kelly Harmon & Associates provide outstanding, highly practical seminars and workshops to schools throughout the United States. We customize the content of the workshop to meet the needs of each school or district. Contact our office at 817-583-1290 to schedule an onsite workshop.
Our Workshops »
Latest Blogs
---
by Kelly Harmon & Randi Anderson
September 6th, 2016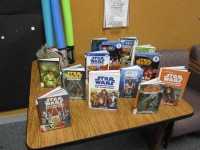 Why is Genre Knowledge Critical?
Start the year off building the students' knowledge of genre in order to think more critically about every text they encounter this year. Good readers use genre knowledge to get beyond surface-level comprehension. They orient themselves to each text and select comprehension strategies based upon the demands of the text. For example, you would think about character actions in a fiction text and key ideas in an expository text.
Read More »