Expository Writing Scoring
by Kelly Harmon & Randi Anderson
March 2nd, 2018

The goal of student writing is to communicate a message to the reader in an authentic and thoughtful way!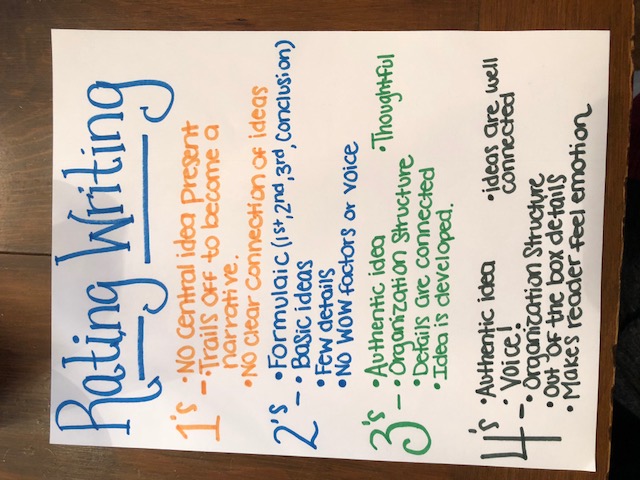 To be authentic, writing cannot be boring or formulaic (first, second, third). All writing has a beginning, middle, and end that consists of an organizational structure (description, problem/solution, cause & effect, compare & contrast, sequence). Students must be able to make a decision as to which structure best helps them to explain the central idea of an expository text. Students must understand structures and how authors decide which structure works best.
Writers demonstrate thoughtfulness when they present interesting or unique ideas that evoke an emotion in the reader. Voice is an element that can make a big difference in writing. The writer should be talking to the reader. What would you say in a conversation with someone about your topic? How would you get your partners attention? What interesting ideas would you want to share? Students need to participate in discussion sessions with their peers to practice voice. They also need to see lots of mentor texts and demonstrations that show how voice is developed and conveyed to the reader.
Here are some teaching points for mini lessons for writing!
Teaching Points for Writing
Voice-How excited or passionate are you about your topic? What do you find interesting or important that you want to communicate in your essay?
Authors make choices about how to organize their ideas-What is the best way to present my ideas to the reader?
Precise and concise word choice adds to the voice and vision the author is trying to convey about the topic.