Digital Book Talks Using Tellagami
by Kelly Harmon & Randi Anderson
October 10th, 2017
Learning goal: I can create a recording of a report on a book or article I have read independently, giving important details and speaking in complete sentences.
Prepare for your book talk.
Make sure you've read the book
Think about what is interesting in your book
Think about the lead—how will you capture your audiences' interest
Write page numbers and a few notes on a sticky note
Write a script you will read for your book talk. Include: An attention-getting lead
Tell the title and author. You can also tell the genre.
Explain why you chose the book and your purpose for reading it.
Tell a little about the book, but don't give away secrets
Give your rating or opinion about the book and tell why others might enjoy reading it.
Mention other books by the same author or other books in the series
Use the iPad camera to take a picture of the book or article.
Open Tellagami app. Click CREATE.
Design your character to look like you or a character from your book.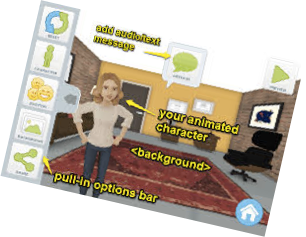 Add an emotion that demonstrates the tone or mood of the text.
Add your picture of the book or article as the background.
Click the BACK button on the top left.
Tap MESSAGE.
Press RECORD when you are ready to do your book talk.
Press STOP when you finish.
Click SHARE and press SAVE. This saves the video in your photos app.